Regular price
Sale price
$43.00 USD
Unit price
per
Sale
Sold out
Saw Palmetto
Pumpkin Seed
Turmeric & Black Pepper
Zinc and Selenium
Ingredients

Saw Palmetto Extract 10:1 (Serenoa repens) (21%), Pumpkin Seed Extract 20:1 (Curcubita moschata) (21%), Turmeric Root Extract 95% Curcuminoids (Curcuma longa) (14%), Nettle Leaf Extract 10:1 (Urtica dioica) (14%), Pullulan (Vegetarian Capsule Shell), Zinc Picolinate, L-Selenomethionine, Disodium Tetraborate, Black Pepper Extract 95% Piperine (Piper nigrum).
Nutrients

Average Values, Per 2caps, *RI%

Zinc, 20g, 200%

Selenium, 200μg, 364%

Boron, 2mg

Saw Palmetto Extract, 300mg

Pumpkin Seed Extract, 300mg

Nettle Leaf Extract, 200mg

Curcuminoids, 190mg

Black Pepper Extract, 2mg
Instructions

Take 2 Capsules per day. Food supplements should not be used as a replacement for a healthy, balanced diet. Store out of reach of young children. Do not exceed the stated recommended daily dose. Talk to your doctor before use if you are taking any medication. Not suitable for children under 16.
Share
View full details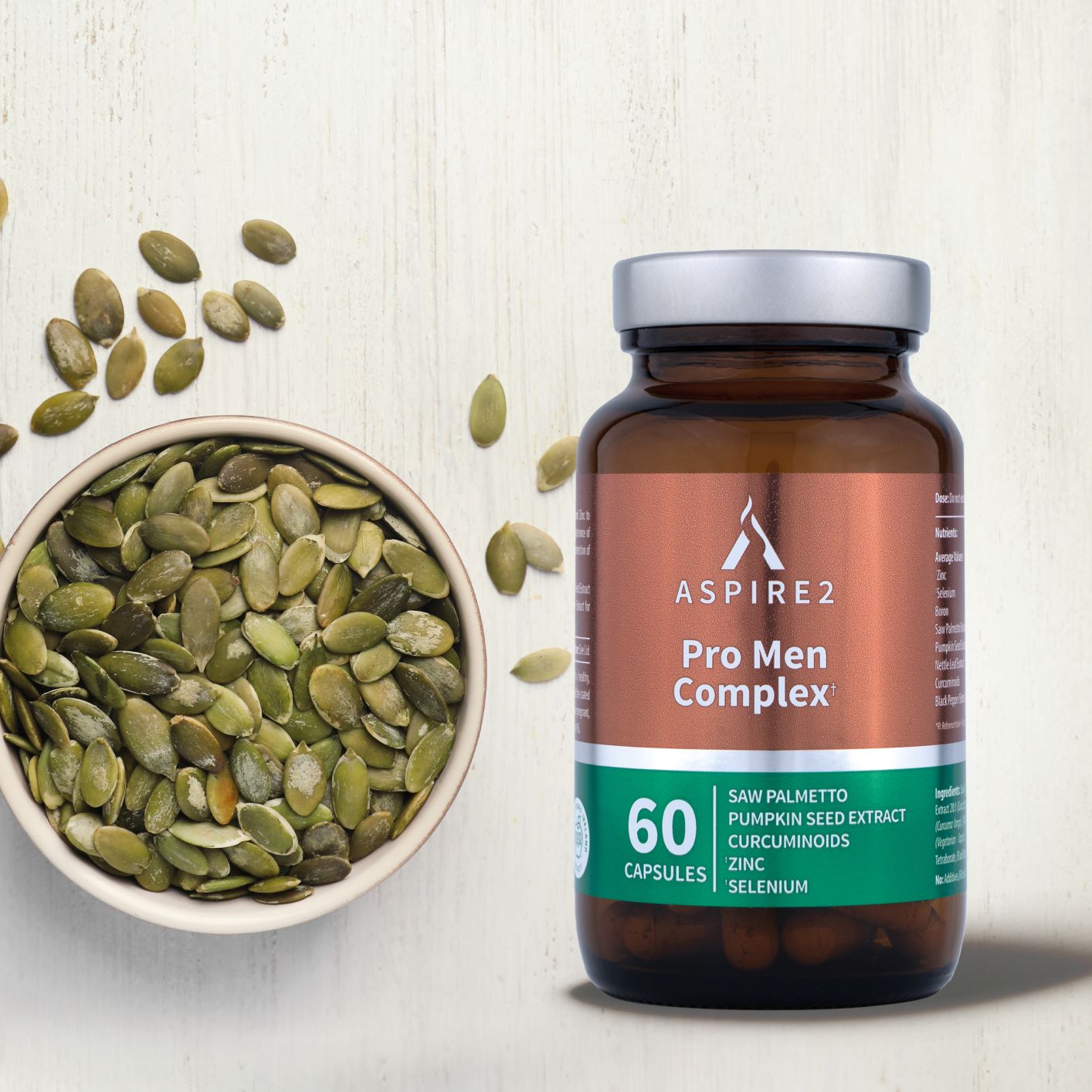 Advanced formulation for Men's  Health
Men's Health
The average man pays less attention to his health than the average woman. Compared to women, men are more likely to drink alcohol and smoke; and they are also less likely to see a doctor for regular check-ups.Men also have unique health issues such as erectile dysfunction and prostate enlargement.
Many of the health risks that men face can be prevented with a healthy lifestyle - including regular exercise, a healthy diet, not smoking and moderate alcohol consumption.
Aspire2 Pro Men Complex is an advanced formulation of premium natural ingredients to support Men's Health.
Zinc The EU has approved an official health claim for Zinc regarding its role in supporting Normal Fertility and Reproduction.
Scientific studies show that low Zinc status or deficiency is associated with low testosterone levels, poor sperm quality, and an increased risk of male infertility.
Selenium A 2017 study found that sperm count among men has halved in the last 40 years. The EU has approved an official health claim for Selenium regarding its role in supporting Normal Spermatogenesis (sperm production).

Advanced Formulation
Aspire2 Pro Men Complex also contains several highly researched ingredients to provide a truly unique formulation.
Saw Palmetto is a type of Palm native to the south-eastern United States and it has been the subject of many scientific studies.
Pumpkin Seeds are a rich source of Zinc. Scientific studies show that dietary Zinc increases testosterone levels and sperm count in those who are low in
Zinc.
Curcuminoids are the main bioactive ingredients found in Turmeric, which has been researched extensively for its health benefits.
Nettle Leaf Extract comes from the stinging nettle and it contains a wide variety of nutrients.
Black Pepper Extract has also been widely researched for its health benefits.
Boron is an important trace mineral found naturally in leafy green vegetables like kale and spinach.